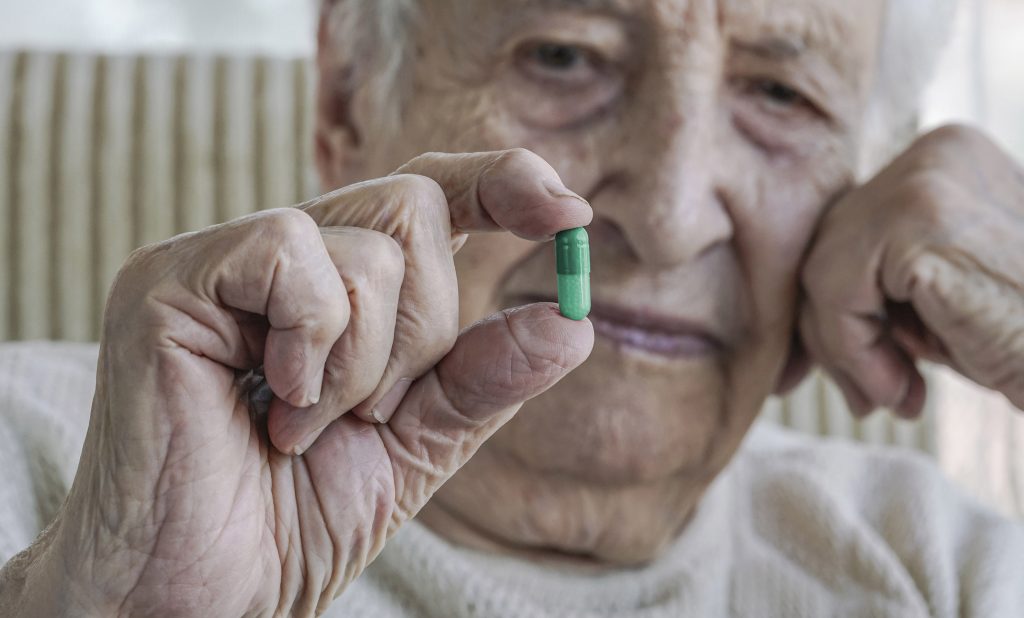 Acetylcholine is one of the most abundant neurotransmitters in the human body, and it's found in the central nervous system (CNS) and peripheral nervous system (PNS). Acetylcholine is one of the human body's most important neurotransmitters, which are chemicals that transmit signals from one cell to another cell. It's a chemical compound made up of acetic acid and choline, and cholinergic synapses are those that are mediated by acetylcholine. 
Acetylcholine is so important because serves a number of critical functions, many of which can be impaired by diseases or drugs that influence the function of this neurotransmitter. Acetylcholine is found in many brain neurons and plays an important role in mental processes such as memory and cognition; severe depletion of acetylcholine is associated with Alzheimer's disease.
Anticholinergic Medications
Many medications (both prescription and over-the-counter) taken by older adults have anticholinergic effects, which means the drugs will have impede or interrupt acetylcholine function and lead to serious symptoms, even death. It's estimated that 25% of older adults take anticholinergic drugs for a number of reasons including treatment of allergies, insomnia, leaky bladders, diarrhea, dizziness, motion sickness, asthma, Parkinson's disease, chronic obstructive pulmonary disease (COPD, and some psychiatric disorders.
What's happening is that older adults taking anticholinergic are showing signs and symptoms of dementia, and they're being misdiagnosed. Anticholinergic medications target acetylcholine, which plays a key role in attention, concentration, and memory formation. When medications with anticholinergic properties interrupt the work of the neurotransmitter, problems resembling dementia may occur. 
Some prescription medications with anticholinergic effects include antidepressants such as imipramine (brand name Tofranil), antihistamines such as hydroxyzine (Vistaril and Atarax), antipsychotics such as clozapine (Clozaril and FazaClo), antispasmodics such as dicyclomine (Bentyl) and drugs for urinary incontinence such as tolterodine (Detrol).
Also, many common over-the-counter drugs have anticholinergic properties, including antihistamines Benadryl and Chlor-Trimeton and sleep aids such as Tylenol PM, Aleve PM and Nytol. Common side effects include:
Dizziness
Confusion
Drowsiness
Disorientation
Agitation
Blurry vision
Dry mouth
Constipation
Difficulty urinating
Delirium
Sudden and acute change in consciousness
There are numerous why these drugs affect senior citizens so badly:
Seniors' brains process acetylcholine less efficiently
With seniors, these medications are more likely to cross the blood-brain barrier
Seniors' bodies take longer to break down the drugs
A study published in the Journal of the Royal Society of Medicine shows just how prevalent these drugs are in senior populations. According to the authors of the study, Dr. Jacob Mintzer and Dr. Alistair Burns, "people over the age of 65 consume 30% of prescriptions and 40% of over-the-counter remedies despite making up only 13% of the entire population." Coupled with the fact that about 97% of seniors living in nursing homes take medication, the number of senior citizens taking drugs that could mimic the signs and symptoms of dementia is alarming.
Because it's not uncommon for older adults to show signs of aging, especially concerning cognitive functioning, many people are being diagnosed with dementia who don't really warrant such a diagnosis. Simple changes in their medications may be all that's needed to improve their memory, ability to concentrate, and mental status.